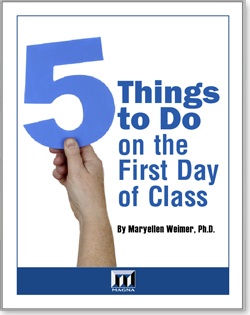 There's only one first day of class.
What happens on the first day, even in the first moments, sets the tone for the entire course.
The impression you make will last the entire semester, and today's students are not shy about sharing their opinions.
Get ideas on how to make the most of this opportunity with, Five Things to Do on the First Day of Class.
This free idea sheet gives you five first-day essentials that help create a climate for learning.
Learn ways to:
Preview course content
Ensure the syllabus is understood
Encourage dialogue
Create a connection with students
Plus, you will receive an entire page of resources to helpful articles on the first day of class.
Start the new semester right. Download this helpful idea sheet today!
---