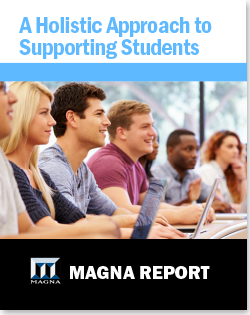 This report was created to give higher educational professionals ideas on how to support their institution's students from every angle.
A Holistic Approach to Supporting Students was written for faculty, online educators, academic administrators, recruitment staff, and distance education administrators.
Over the course of 32 pages, this report includes the following articles.
Supporting Students in the Classroom
Designing Homework That Enhances Learning
Testing That Promotes Learning
Supporting Online Students
Improving Student Motivation with Check-ins
Designing Effective Team Projects in Online Courses
Supporting Students as an Academic Leader
A Comprehensive Approach to Student Success
Implementing High-Impact Learning
Supporting Students in Distance Education Programs
How Teaching Load, Employment Status Effect Student Performance
Supporting Student Retention in Online Courses
Supporting Students through Recruitment Strategies
Graduate Recruitment: One Possible Solution to Enrollment Dilemma?
Counselor's Notes: On-the-Spot Admissions
Our hope is that this report gives you ideas to fulfill the most critical part of what you do—supporting student success.
Download your copy today!