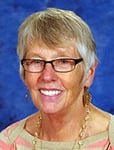 Teachers do a lot of teaching, and they often teach many of the same courses again and again.
It's only natural that even the most committed faculty member, at some point, will hit the wall—feeling as if his or her teaching methods are getting tired or that once reliable procedures are falling short.
What techniques keep your teaching fresh?
In this recorded interview, Maryellen Weimer, PhD, offers some effective teaching strategies you can try that will inject new energy into your courses and refresh your teaching.
The practices are simple and straightforward. Most importantly, they don't require a large investment of your time.
Dr. Weimer covers proven practices for:
The do's and don'ts of implementing new teaching strategies
Evaluating the effectiveness of new instructional methods
Grading listening as part of participation
Ensuring students complete the readings before class
Reflection methods to help experienced instructors stay fresh
Plus, Maryellen gives you an example of an intellectually robust extra credit assignment that will help other students and save you time.
This short 22-minute recording is packed with examples of techniques you can implement immediately.
Listen to this free recording today!