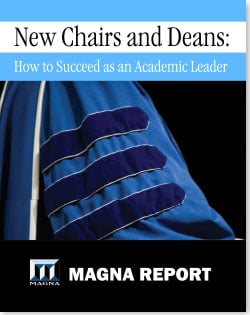 Moving into an academic leadership position—either as a department chair or a dean of a school—can, at times, feel overwhelming.
You might even be wondering how your institution could give you a position with so much responsibility and with so little training.
You have so many questions: How do I manage faculty I used to be a peer of? Am I a competent leader? How will I handle the increased workload?
All of these issues can lead to unnecessary stress as you make the transition to a leadership role.
We hope this report can answer some of these questions for you as you embark on your new career.
The aim of this report is to share the knowledge and advice from those that have successfully made the transition to respected academic leaders at their institutions.
The articles chosen were originally published in the Academic Leader newsletter. Some of the titles in this 34-page report include:
A Purposeful Approach to Chair Transition
Three Things You Need as a New Dean
Six Steps to a Healthy Department
Associate/Assistant Deans: Leading from the Middle
Why New Department Chairs Need Coaching
Five Newbie Mistakes Made by Academic Leaders
We won't be able to answer all of your questions, but we hope this report will create a solid starting point and make the transition easier.
Download your free report today!