Best of the 2017 Teaching Professor Conference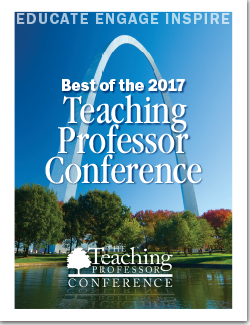 The 2017 Teaching Professor Conference was held in St. Louis, June 2–4. This report
highlights some of the top-rated sessions and presenters from this year's conference.
The Teaching Professor Conference continues a tradition of bringing you the latest in pedagogical research regarding the ever-changing state of today's classroom—we hope you were among the more than 1,000 attendees who joined us to discuss, network, and explore practical, meaningful, and relevant topics in teaching today. If not, we hope to see you in Atlanta for the Teaching Professor 2018!
As always, the conference will delve deep into the subjects that matter most. Come gain important insights in areas such as:
Course creation
Student engagement
Outcome improvement
Classroom technology
Assessment and feedback
Closing skills gaps
The Teaching Professor Conference is where dedicated educators like you hone their craft. You'll come away energized and inspired, with new tools and techniques to apply in your classroom right away.
Download your copy today!